Skip to Content
About Site Pros LLC in Montgomery, AL
Finding a professional contractor for your project can be a daunting task, but our professional team makes it easy to get the site work you need. Site Pros LLC is a grading and utility contractor in East Montgomery, AL with ample experience completing projects in the field for a wide array of clients. We founded our business on hard work and integrity, and we excel at providing top-quality site work in a timely manner while making every effort to stay within a developer's budget. Every client is important to us, and we strive to provide the best possible results on each project to ensure developers have the completed site work they need without cutting corners or accepting work that fails to meet our high standards. You will see a positive difference in our professional services compared to other contractors.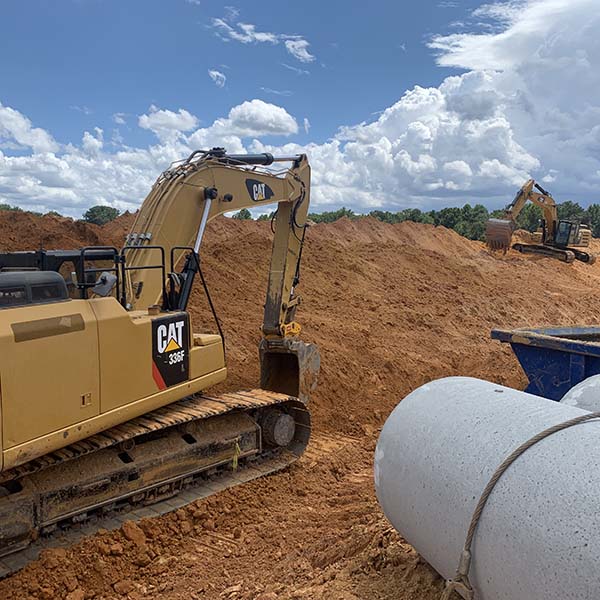 We Prioritize Client Satisfaction on Every Project
At Site Pros LLC, we perform every project with efficiency and integrity. Our priority is adhering to top-quality results on all site work, and we strive to complete every project on time and on budget. We understand the value of your time and the trust you place in us with your grading and utility site work, and we honor that trust and make our services worth your time. By working with other utility companies, our company helps developers achieve a seamless finished project. Before we break ground, we work with you during the conceptual stage to create the most efficient plan and eliminate a wide assortment of changes your project might have needed during construction. These changes would cost you time and money, and our goal is to perform timely work while respecting your budget. Your project gets outstanding attention to detail and quality results because we tackle every project like it was our own.
Trust the Professionals at Site Pros LLC
Site Pros LLC is ready to perform exceptional site work at your grading and utility projects. As professional contractors, we take pride in the quality results we deliver and our company's integrity. Let us provide the site construction services you need to complete your project with the best possible results while honoring your time and budget.
Contact Us to Schedule Your Project